PERFORMANCE • MOBILE ELECTRONICS • BODY STYLING
We are proud to have some of the highest skilled, factory trained technicians in the industry on our team, who not only create head turning vehicle customizations for our clientele, but also have a passion for the work they do and showcase it on their own vehicles.
Please feel free to contact us online, by telephone at (306) 992-2621 and we'll be happy to answer any question you may have.
---
LEAVE IT TO THE BEST, WE'LL TAKE CARE OF THE REST
Ben and Tyler are our go-to guys when it comes to choosing the perfect accessories for your truck, SUV, or car.
With over a decade of combined experience at Sherwood, they are your automotive experts. Ben excels in detailing, bodywork, repairs, and personal vehicle modifications. Tyler, a journeyperson technician, handles everything from engine issues to customizations and engine swaps. They're your go-to team for automotive expertise..
Our expertise extends to all makes and models and includes:
Lift Kits
Lowering kits
Wheels and Rims
Full-service paint booth
Custom Graphics
Parts and Accessories: all makes and models
Fenders, mud flaps, floor mats
Interior Upgrades
Racks
Window Tint
XPEL Paint Protection
Truck Bed Liners
Suspension
Exhausts
Car Security
LIFT KITS
Rise above the rest and have your truck fitted with a lift kit or level kit. We can install anywhere from a 2″ to a 6″ lift.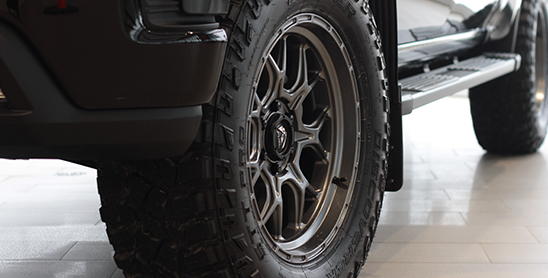 WHEELS & TIRES
One of the easiest ways to give your vehicle some personality is with a new set of wheels. From subtle and eye catching matte black to classic chrome, we can find a style that will stand out in a crowd.
ACCESSORIES
Running boards, box covers, bug shields, mud flaps that get the job done and look good doing it, box rails, roof racks, dash cams, remote starts, sound systems; you want it, we can install it.
EXHAUST
Be seen and heard with an exhaust that offers the looks, sound, and performance enhancement you've always wanted.
SOME OF THE BRANDS WE FEATURE
LIFT & LEVEL SUSPENSION
READY LIFT
PROCOMP
BDS
PRORYDE
FOX
BILSTEIN
ZONE OFFROAD
ROUGH COUNTRY
WHEELS
FUEL
FAST
MAYHEM
AMERICAN TRUXX
MOTO METAL
RBP
AMERICAN RACING
DUB
NICHE
XD
RWC
TIRE BRANDS
COOPER
BFGOODRICH
GOODYEAR
NITTO
TOYO
AMP
FIRESTONE
BRIDGESTONE