Few full-sized pickup trucks offer their owners more dependability, strength, advanced technology, and the right equipment for any job. The 2017 Chevy Silverado 1500 is perfect for navigating through Saskatoon. It is a workhorse, a family mover and more.  Offered in 5 different trims, and for the first time, 10 different specials editions, there is sure to be a Chevy Silverado for you.
What You Need To Know About the 2017 Silverado 1500
Following a facelift in 2016, which earned the Silverado 1500 the title "Highest Ranked Large Light Duty Pickup in Initial Quality" by J.D Power, the 2017 model received a series of technical upgrades and a whole lot of additional power in the form of 3 new, powerful and efficient engines paired with a sophisticated 8-speed automatic gearbox, replacing the previous 6-speed automatic. This year's model is more fuel efficient, more powerful, and better equipped than Saskatchewan drivers have ever seen before.
| | | | |
| --- | --- | --- | --- |
| Max Towing                             |  Fuel Efficiency     |  Horsepower     |  Torque |
|  5,670kg |  10.7 L/100km HWY |  420 hp  |  460 lb-ft |
2017 Exterior Updates & Specs
After a full redesign in 2014, and a design refresh in 2016, the Chevy Silverado 1500 primarily received a host of technological advancements and options for two new colors -- Graphite Metallic and Pepperdust Metallic.
The 2017 Silverado also now features a capless fuel fill system as a standard feature across all models and trims. The 2017 model also received a new angular bumper design on the front, which combined with the new improved grille, which removed the straight lines found on previous models, adds up to a much more aggressive look from the front.
A Comfortable and Quiet Pickup Truck
Despite its size, Saskatoon drivers will find that it's the little things and attention to detail that make this truck leaps and bounds above the competition. With soft touch materials found through the refined cabin, as well as large comfortable seats with high-grade leather upholstery and heated (even cooled) options, the Silverado is one of the most comfortable trucks around.
Beyond being roomy and quiet, the Chevy Silverado is made of high-strength steel, as opposed to aluminum like the Ford F-150, which provides drivers with a quiet, comfortable ride. Rarely, if ever, will you feel the road thanks to the set of hydraulic body mounts which further isolate the cab. The 2017 Silverado also features Active Noise Cancellation standard on models equipped with the powerful 6.2L V8 L86 engine.
2017 Improved Engine Offerings
For 2017, the Silverado 1500 had all 6-speed automatic transmissions swapped out for a considerably more sophisticated 8-speed automatic gearbox paired with 420-hp 6.2L V8 engine on  available models, with other engine options including a 355-hp 5.3L V8 and a 285-hp 4.3L V6. Both V8 options for the 2017 Silverado come equipped with GM's Active Fuel Management system, which shuts down 4 of the available cylinders while drivers are cursing and under light load conditions in order to save fuel.
More Power, Less Fuel
Drivers will also be interested to know that the V6 option provides more torque than any standard V6, while the 5.3L V8 offers the greatest fuel economy of any V8 pickup engine, with 10.23 L/100KM. The 2017 Silverado also comes Rear-wheel drive standard, but with the option for full-time four wheel drive. This system will also include a low-range gear set up for drivers who will be actively taking their truck out for off-road use.
Haul Anything, Anywhere, Anytime
The new 8-speed transmission takes advantage of GM's Active Fuel Management system, Direct Injection, and Continuously Variable Valve Timing fuel-saving technologies. The trifecta of technology here provides the truck 460 pound-feet of torque, as well as the best in class towing capacity of 12,500lbs. This new transmission will help drivers start off more comfortably while driving with a heavy load, or even with a trailer attached. Not only can the 2017 Silverado easily handle as much of a load as it's nearest competitor, but as Howie Long has pointed out, there really is no competition. The Silverado's high-strength steel bed is capable of handling anything out there, unlike the Ford F-150, which is far more susceptible to puncture.
Technology To Keep You Comfortable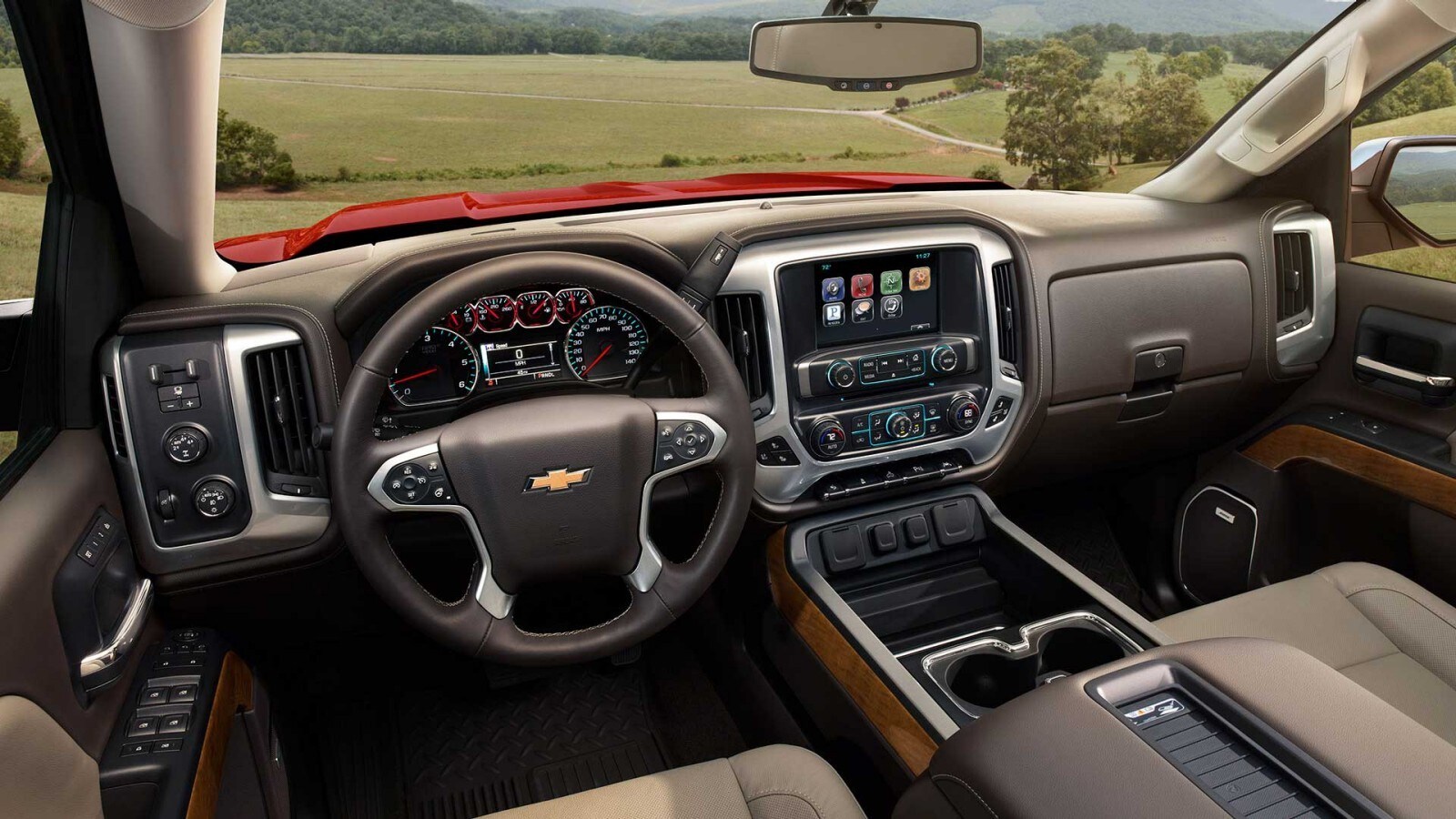 The 2017 Chevy Silverado received the new Chevrolet MyLink (IO5 & IO6) audio system, as well Android Auto and Apple's CarPlay. Chevy has also made a rearview camera a standard feature for the LT trim level, making it even easier to find parking in busy downtown Saskatoon.
A Truck Built to Take on Saskatchewan Winters
To help you prepare for the unforgiving Saskatchewan winters, Chevy has also added an option for a heated leather-wrapped steering wheel. The primary focus for Chevy this year was to enhance the safety features found in the truck, which has paid off as the truck received 5 out of 5 stars from the NHTSA safety rating group.
Stay Connected Wherever You Are
Drivers will also love the multitude of charging points provided by the new Silverado. The truck comes with two USB ports, and an available 110V AC power outlet, making it easy to keep all your devices charged and ready to go, no matter where you are. Saskatoon drivers will also find that they'll be able to stay constantly connected, as the Silverado 1500 is the first full-size pickup to also offer OnStar 4G LTE with available Wi-FI connectivity, which provides a reliable signal for up to seven devices.
Wireless Phone Charging
The 2017 Silverado is the first full-size pickup truck to offer wireless charging, allowing you to keep your compatible smartphone ready at all times with the convenient built in wireless charging pad in the center armrest. This feature is included if front bucket seats are specified.
New Safety Features for 2017 
The 2017 Chevrolet Silverado 1500 offers drivers a number of different advanced safety options, including Low-Speed Forward Automatic Braking, which can help to prevent distracted drivers from causing an easily preventable collision. The truck comes wrapped in a safety cage made of high-strength steel as well, which will protect occupants while the available OnStar Automatic Crash response triggers an emergency assistance dispatch to assist you in the worst case scenario.
The 2017 Silverado 1500 is also the recipient of Chevy's Teen Driver mode, which lets owners keep track of the behavior of the their less experienced family members. Features of Teen Driver Mode include:
●     Radio muting while seat belts are unfastened
●     Automatic limiting of the truck's stereo to keep the drivers hearing from being reduced
●     Maximum speed warnings, coupled with visual warnings and audible chimes when the car exceeds the max.
●     Active safety features that can't be turned off by the driver
2017 Chevrolet Silverado 1500 - A Workhorse for the Family
The 2017 Chevrolet Silverado is perfect for handling Saskatoon's tough terrain, and will easily push through anything that a Saskatchewan winter can throw at you. With the improved engine offerings, a smooth new 8 speed transmission, host of technological advancements, the 2017 Chevy Silverado is sure to become the go-to-choice for Saskatoon drivers all year round.
Make an Inquiry
So what are you waiting for? Contact us today to test drive this incredible 2017 Fullsize Pickup!