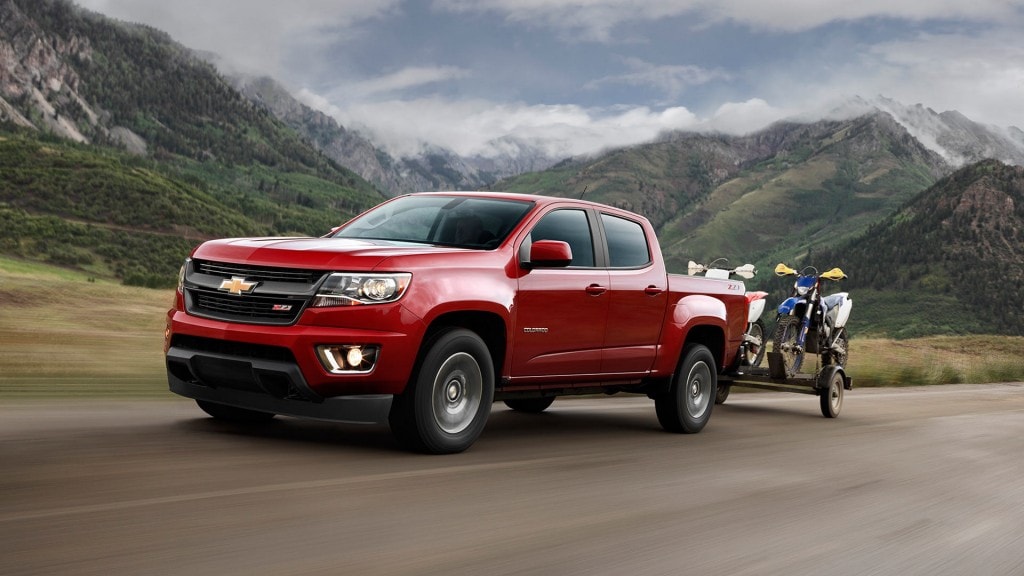 When it comes to midsized trucks, the Chevrolet Colorado has always been a popular amongst Saskatchewan truck drivers. With its sleek exterior design, efficient fuel economy, great towing capacity, and comfortable interior design, it's no surprise that Chevy Colorado has been admired above all other midsized trucks.

With the upcoming release of the new 2017 model, we don't expect this to change. This new model has same great exterior look we've grown to love, an all-new 3.6L V-6 engine, and an 8-speed automatic transmission. The new 2017 Colorado could become one of the most popular midsized pickup trucks from Chevrolet yet.
Exterior Updates and Specs
The overall look of the 2017maintains the same sleek design of the 2016. With minor updates like a new aluminum hood, LED lights, griper tires, a front fog lamp kit, and the lightest Colorado body yet, the 2017 Colorado truck will be much more economical with better drivability than ever before.
2017 Colorado Pickup Truck Specs
Dimensions

Extended Cab (6'2" box)

Crew Cab (5'2" box)

Crew Cab (6'2" box)

Length

212.7 in. (5403 mm)

212.7 in. (5403 mm)

224.9 in. (5713 mm)

Width

74.3 in. (1886 mm)

Height Range

70.3 in. (1785 mm) - 70.7 in. (1795 mm)

Wheelbase

128.3 in. (3258 mm)

128.3 in. (3258 mm)

140.5 in. (3569 mm)

Ground Clearance

8.4 in. (213 mm) - 2WD
8.3 in. (212 mm) - 4WD

8.3 in. (210 mm) - 2WD
8.2 in. (208 mm) - 4WD

8.1 in. (206 mm) - 2WD
8.1 in. (206 mm) - 4WD
Improved Truck Performance for Better Every Day Driving
To improve the normal day-to-day driving experience, Chevrolet upgraded the truck's engine and transmission to give it a combination that's unmatched by any other midsize truck. 
Saskatchewan truck drivers will notice that the truck pulls harder when accelerating from a stop or passing on the highway and that it's more refined when cruising at a constant highway speed, creating a more enjoyable ride than ever before. These engine upgrades also make the truck more confident when pulling a trailer to help with those challenging Saskatchewan  roads.  
The Improved V-6 Engine
The brand new 3.6-liter V-6 LGZ engine is updated with variable valve timing for intake and exhaust, has an improved direct-injection setup, and for the first time, cylinder deactivation. These updates have increased the truck's horsepower from 305 hp to 308 hp, as well as its torque from 269 lb-ft to 275 lb-ft. This new engine is already used in several other models including the Cadillac ATS and CTS, the Chevrolet Camaro, and the new Buick LaCrosse.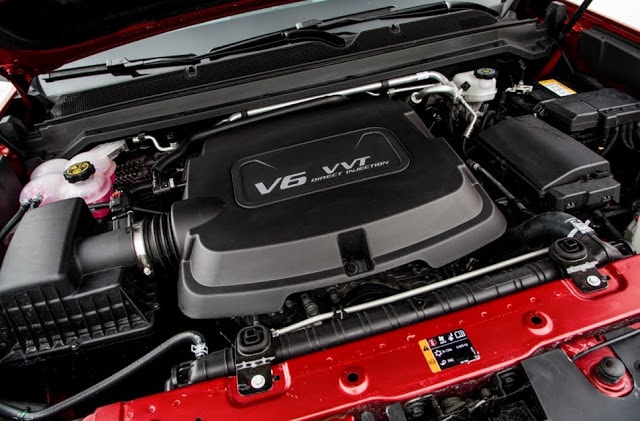 8-speed Transmission
The 8L45 8-speed automatic M5T transmission is similar in weight and size to the 6-speed transmission that was on previous models of the Colorado, but the driving experience it gives the truck is unmatched. The new transmission offers a wider overall gear ration spread, creates a lower first gear if you need to do a hard takeoff, and taller ratios on the highway for better fuel economy.
3.6-Liter V-6 LGZ Engine and 8-speed Transmission Availability
The new V-6 and 8-speed are available on the WT, LT, and Z71 trim levels, as follows:
Trim Level

Base

Work Truck

LT

Z71

Feature / Equipment Group

2SA

2WT

4WT

2LT

4LT

27Z

47Z

3.6L V-6 LGZ engine

N/A

A1

A2

A1

A2

A1

A2

8-Speed 8L45 M5T transmission

N/A

A3

A4

A5

A4

A5

A4
Engine and Transmission Availability Chart Legend:
A1: Standard on Crew Cab Long Box models.
A2: Standard on Crew Cab models.
A3: Requires (LGZ) 3.6L DI DOHC V6 engine. Standard on Crew Cab Long Box models.
A4: Requires (LGZ) 3.6L DI DOHC V6 engine. Standard on Crew Cab models. Available on Extended Cab models.
A5: Requires (LGZ) 3.6L DI DOHC V6 engine. Standard on Crew Cab Long Box models. Available on Extended Cab models.
Additional Powertrain Changes
Other notable updates for the 2017 Colorado is that the AutoTrac transfer case is now standard on 4WD models with gas engines, excluding models with WT trim level, and the trailer brake controller is available with the new 3.6L V-6 LGZ engine and Z82 Trailering Package.
Interior Design Updates Saskatoon Truck Drivers Are Sure to Love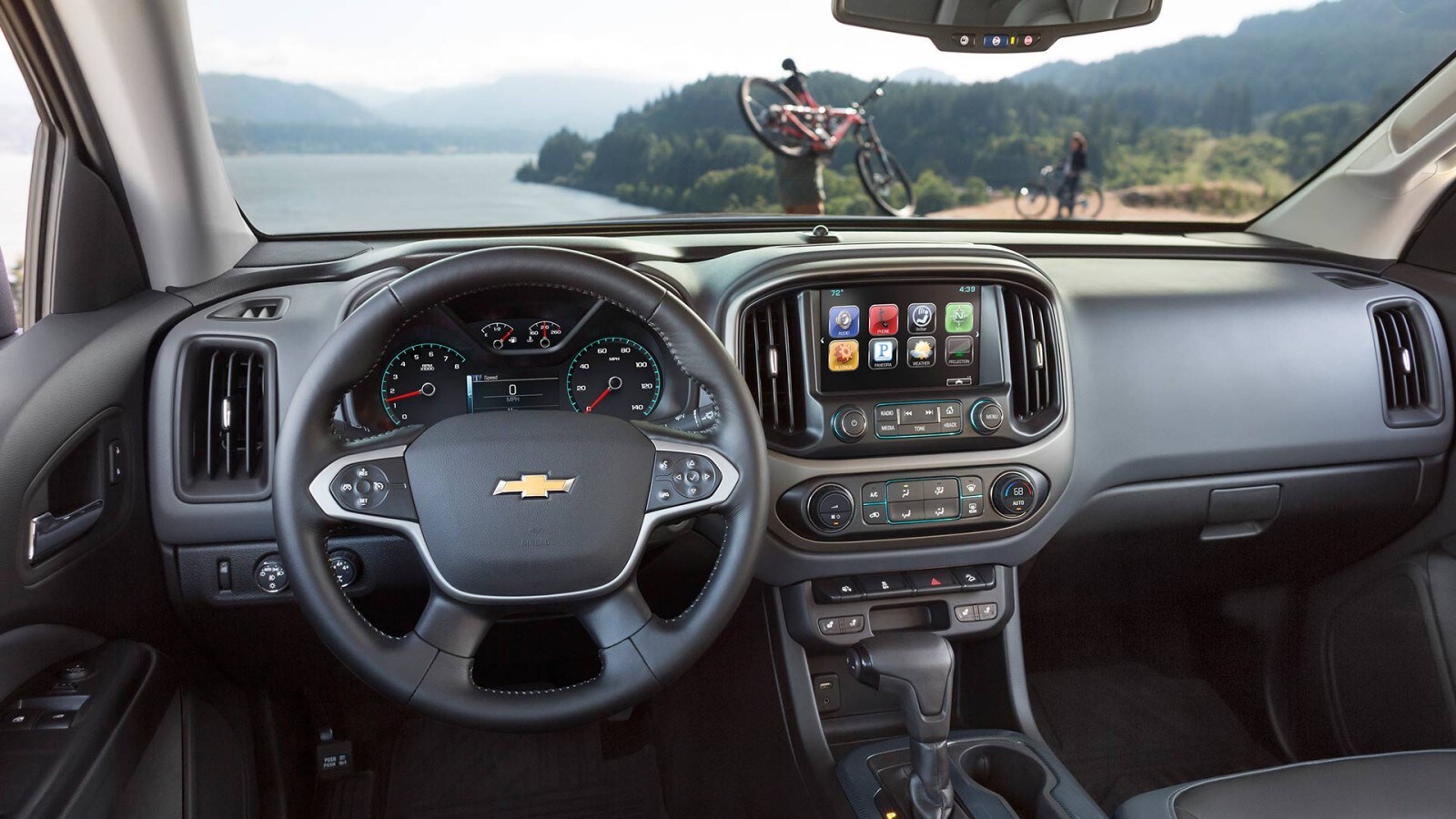 If you're looking to take the interior of your new truck to the next level, the LT and Z71 models now have leather upholstery options that really stand out. 
For those cold Saskatchewan mornings, the 2017 Colorados are equipped with heated front seats on the LT trim model option to make the morning commutes much more comfortable.
Technology Enhancements 
The 4.2-inch IO4 MyLink radio has been removed from the 2017 model, but in its place is the bigger and more user friendly 7-inch diagonal Color Touchscreen MyLink radio IOB. This larger screen is sure to be hit with drivers. 
New Safety Features
All 2017 Colorados will come equipped with the Teen Driver Mode. Teen Driver Mode is a way for parents to promote safe driving and to limit certain features for the younger drivers while the car is moving. Features of Teen Driver Mode include:
Radio is muted when safety belts are unfastened
Audio volume is limited so the drivers hearing isn't reduced 
A maximum speed warning activates a visual warning and audible chime when that speed is exceeded
Active safety features can't be turned off by the driver
2017 Chevrolet Colorado - Creating a New Standard for Midsized Trucks
By focusing on the day-to-day driving experience, Chevrolet created a truck that has a smoother, more enjoyable ride than any truck of this size has had before. Plus, with its improved engine, new 8-speed transmission, and a new set of interior features, the 2017 Chevrolet Colorado is sure to become the popular choice for all truck drivers.